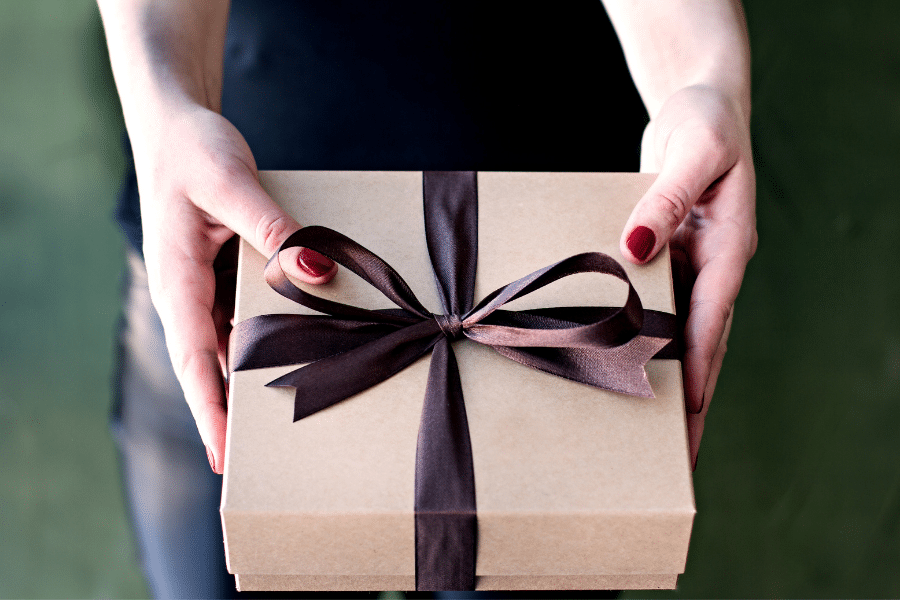 Well, actually there are many! Too many articles about empaths focus on their sensitivity as a weakness or vulnerability. Being an empath is a superpower! In this article, I'll cover the top 3 natural abilities or "gifts" that empaths have. Once an empath becomes aware of their gifts, they can develop and share them with the world, which is why, I think, they are here!
Are you an Empath? Take my Empath Test and find out.
Empaths are the healers and helpers of the world.
Empaths are aptly named. They are empathetic to the energy, emotions, and mood of others. They feel the joy, the pain, and everything in between. And nobody likes to feel pain, so empaths, from my observations, are the ones compelled to "fix" it.
When I was a boy and I would see scary things in the news, my mother would say to me, 'Look for the helpers. You will always find people who are helping.'

Fred rogers
Empaths love humanity, for the most part, and are driven to help it evolve. They often work as teachers, nurses, first responders, therapists, coaches, healers, and counselors. Their primary concern is the well-being of people and often sacrifice their own well-being for others. Self-care is a lifelong lesson for the empath.
No matter what their profession, empaths emanate healing, caring energy that is palpable to others. They are light and warm, and people are naturally drawn to them as a result, like a moth to a flame. They are the ones you find yourself sharing your deepest feelings with and then say something like, "Gee, I never talk about this stuff, but for some reason, I feel like I can talk to you."
Since empaths are natural healers, becoming a professional healing practitioner is a wonderful option for them. The magic in doing this beneficial work lies in the law of reciprocity that says, "What comes around goes around." So as the empath consciously aids in the healing of others, it fills them up with the same healing energy. That's a win-win for the empath and the client!
Empaths are highly intuitive.
Sensitivity is the empath's superpower. Most empaths are heart-based and motivated by their feelings and emotions. Intuition requires receptivity and emotional sensitivity in order to be accessed. Accessing intuition is naturally easier for the empath; although it does take training to differentiate personal energy from other people's energy and present guidance from past pain.
The problem is most empaths don't trust their intuitions. They question the energetic impulses and information they receive and often dismiss their inner knowings. Self-awareness goes a long way for the empath. Once the empath learns how to manage their energy in healthy ways, they can leverage their intuition to their benefit on demand and trust it!
Once the empath learns to trust their intuitive nature, they no longer look for guidance in all the wrong places and instead, turn within to their personal truth. That's liberation!
Curious to know what your intuitive gifts are? Take my Intuition Test to find out.
Empaths are amazing manifestors.
The manifesting process is quite simple in theory but not so easy to put into practice for most people. The process goes like this: ask, align, receive. Asking is the easy part, and from what I see, aligning is the most difficult. You can't even begin to receive if you can't align with the thing you're asking for.
Are you receptive? Everyone thinks they're receptive but are they really? Take my Receptivity Quiz to check yours.
What is alignment? That is when the asker becomes a vibrational match to the thing and when they do, that's when the law of attraction is activated and the desired thing is manifested into form. A huge part of becoming a vibrational match to something is to FEEL into it while IMAGINING it. That's power.
Empaths have an edge when it comes to manifesting because of their emotional, heart-based nature. Feeling into their desires is second nature! Staying there can be a challenge since we live in a world that dismisses emotions and imagination and would prefer we grow up and be rational. That's a manifesting killer.
Once an empath embraces their intuitive, emotional nature they become unstoppable creators of their realities!
Empath, grow your gifts!
The bottom line is this: Empaths are naturally gifted in the areas of healing, intuition, and manifesting. My life's work is to help them unleash their gifts and live empowered and magical lives! I've created an online community exclusively for empaths. Enchanted Empath Community is a safe place for empaths and sensitives to consistently explore and develop their inherent gifts with weekly workshops, live and recorded guided meditations, and receive support from a community of like souls.
You will take a deep dive into the topics of healing, intuition, and manifesting. You'll have time to put your superpowers to the test and practice your new tools. You'll also develop a practice of self-care that will make all the difference in your world!
To start the year off right, we'll focus on manifesting. You'll have 12 months of empath training week after week so you can manifest great things for your relationships, health and wellbeing, career and finances, and personal development. You'll learn new tools and technologies that will forever set you up to be an amazing manifesting machine!
Here's what the rest of the year looks like…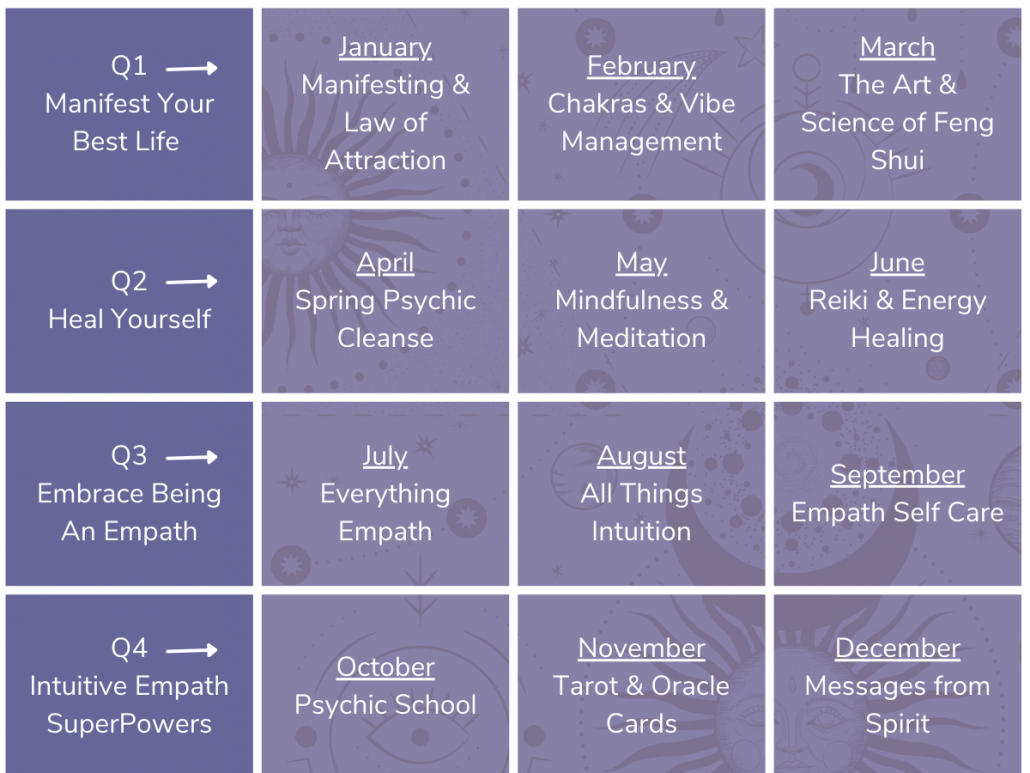 Get started inside Enchanted Empath Community. You have nothing to lose and everything to gain! I'll see you inside!