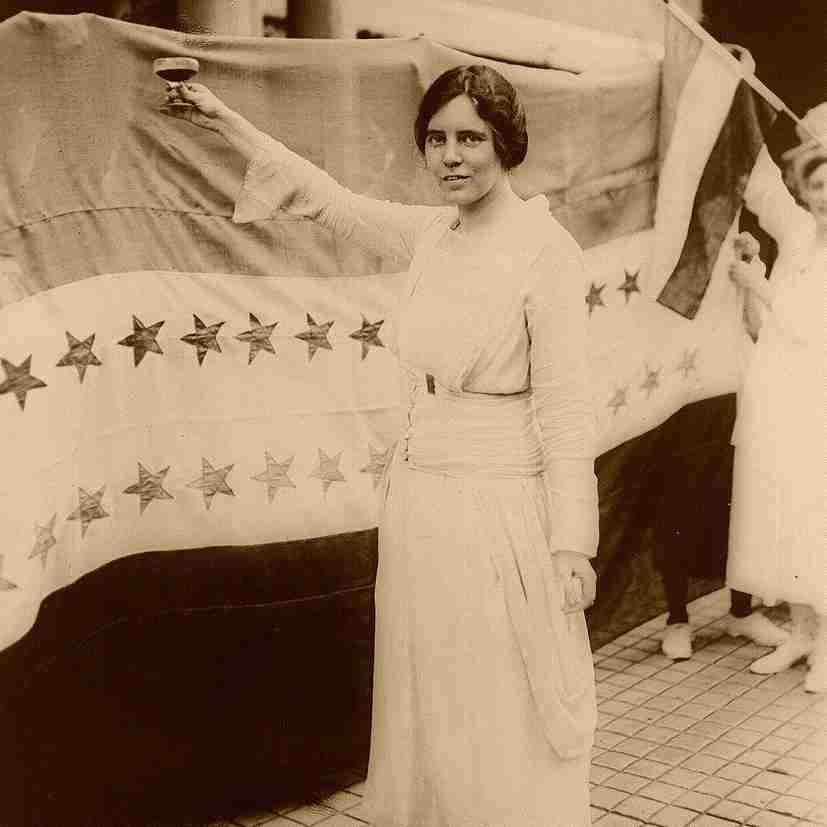 Alice Paul
Women's Rights Activist (1885–1977)
Suffragette Alice Paul dedicated her life's work to women's rights and was a key figure in the push for the 19th Amendment.
Alice Paul was an amazing, resilient and determined woman. I lovingly refer to her as a total badass! She played several sports like basketball, baseball and field hockey during her school days which was uncommon for a girl in the late 19th century.
She never married or had children. She had a mission to accomplish and she did it. Alice paved the way for women today. This woman was a true visionary. She fought for our right to vote and got it. Thank you, Alice!
She was frequently jailed and placed in a mental institution, a feeble attempt to quash her spirit, but she was well connected with similar badass women, referred to as "Iron Jawed Angels" and a few men, who would not allow it.
Not only was Alice an advocate for women's rights, she was also active in the Peace Movement. I'm so happy she lived to see her dream realize and evolve.
Here's what you all picked up:
Independent – completely and totally
Successful – changed the world
NY – she attended grad school in NY. Born in New Jersey
No children – many of you got that
Associated with an institution – attended many universities, spent time in jail and a mental institution
Spiritualist – was raised Quaker
Farm – was raised on a farm
Traditional name – many of you got a name that begins with A
Sad and lonely – I'm sure she had her moments, especially when ignored, tortured and jailed
Walking with a friend – her bestie, Lucy Burns formed the National Women's Party with Alice
Inspired by thought – totally! She was a visionary
Active mind – until her death, she remained quite active and inspired
Educated – very much so
Totally into her work – her work was her life. No marriage, kids or documented relationships
Reserved and introverted – indeed!
Known for making her mark – AMEN for the right to vote and the Equal Rights Amendment!!
Teacher and writer – many people picked this up. She most definitely was a teacher, but not in the traditional sense. She taught by example, by protest, by creating a new reality. And she wrote the Equal Right Amendment… for starters.
Excellent intuiting, y'all!
More about Alice from Biography.com…
Born on January 11, 1885, in Moorestown, New Jersey, Alice Paul grew up Quaker and attended Swarthmore College before living in England and pushing for women's voting rights. When she returned to America in 1910, she became a leader in the suffragist movement, eventually forming the National Woman's Party with Lucy Burns and becoming a key figure in the voices that led to the passage of the 19th Amendment. In later years she advocated for the passage of an Equal Rights Amendment as well. She died in Moorestown on July 9, 1977.
Early Life and Schooling
Alice Paul was born on January 11, 1885, in Moorestown, New Jersey. Influenced by her Quaker family, she studied at Swarthmore College in 1905 and went on to do graduate work in New York City and England.
While in London from 1906 to 1909, Paul became politically active and unafraid to use dramatic tactics in support of a cause. She joined the women's suffrage movement in Britain and was arrested on several occasions, serving time in jail and going on a hunger strike.
Activist for Women's Right to Vote
When she returned to the United States in 1910, Paul became involved in the women's suffrage movement there as well. Driven also to change other laws that affected women, she earned a Ph.D. from the University of Pennsylvania in 1912.
At first, Paul was a member of the National American Woman Suffrage Association and served as the chair of its congressional committee. Out of frustration with NAWSA's policies, however, Paul left to form the more militant Congressional Union for Woman Suffrage with Lucy Burns. The group was later renamed the National Woman's Party with the goal of implementing change on a federal level.
Known for using provocative visual media to make their point, NWP members known as the "Silent Sentinels" picketed the White House under the Woodrow Wilson administration in 1917, making them the first group to take such action. Paul was jailed in October and November of that year as a result of the protests.
Pushing for an Equal Rights Amendment
After women won the right to vote with the 19th Amendment in 1920, Paul devoted herself to working on additional empowerment measures for women. In 1923, she introduced the first Equal Rights Amendment in Congress and in later decades worked on the civil rights bill and fair employment practices. Although she did not live to see the ERA added to the U.S. Constitution, she did get an equal rights affirmation included in the preamble to the United Nations charter.
Until she was debilitated by a stroke in 1974, Alice Paul continued her fight for women's rights. She died on July 9, 1977, in the town of her birth at the age of 92.