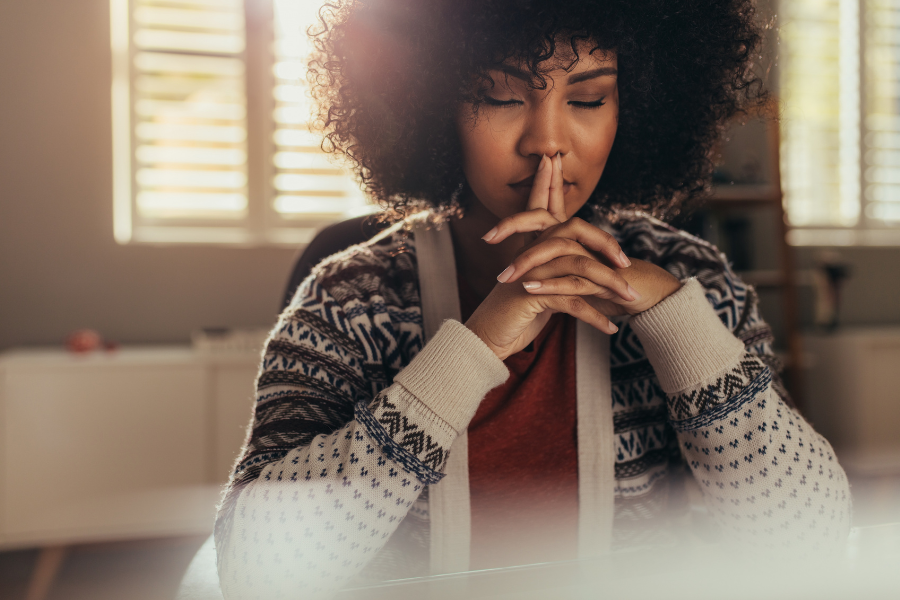 Manifesting is a powerful tool that can help you create the life you want. By staying connected to the Universe and following your intuition, you will start to see your dreams become reality. Trust the process and stay open-minded as you journey toward achieving your goals and dreams. These manifesting tips for empaths give you the framework to leverage your natural abilities to create whatever life you desire!
Create a sacred space for yourself to do your manifesting work
When it comes to manifesting your deepest desires, having a dedicated space to do your work can be incredibly helpful. This space can be anywhere that feels special and sacred to you – it could be a corner of your bedroom, a spot in your garden, or even just a comfortable chair that you always sit in when you're working on your manifesting. The important thing is that you create an environment that feels supportive and nurturing, and that you can return to again and again.
Start by setting up your space with any tools or objects that help you to feel grounded and connected to your intention. This might include candles, crystals, or anything else that brings you a sense of peace and calm. Then, when it's time to do your manifesting work, allow yourself to sink deeply into this space, and let all worry and doubt fall away. Breathe slowly and deeply, and trust that whatever it is you're hoping to manifest will come to you in perfect timing.
Visualize what you want in detail
One of the best ways to achieve success in any area of your life is to visualize what you want in detail by engaging your secret weapon – your all-powerful imagination! The more specific and clear your vision is, the better your chances of making it a reality.
When you take the time to imagine your wishes fulfilled, you are effectively planting the seeds of your future success. Every thought and action you take will be influenced by your vision, and over time, you will start to see results.
Go wild with your imagination. This isn't the time to be "realistic." If you can dream it, you can achieve it. Allow your imagination to roam and know that you will be gifted and guided to the right people, places, and actions to make your dreams a reality.
Use affirmations to program your mind for success
The most powerful tool you have for manifesting anything is your own mind. By programming your mind for success, you can overcome any obstacle and achieve any goal. One of the best ways to program your mind for success is to use affirmations.
Affirmations are positive statements that you repeat to yourself on a daily basis. For example, you might say to yourself, "I am confident and capable," or "I am attracting abundance into my life." By repeating these affirmations regularly, you program your mind to believe them. As a result, you'll find yourself taking action toward your goals with greater confidence and ease. So if you're serious about achieving success, start using affirmations today. You'll be amazed at the difference they make.
Keep your vibration high and healthy
Keeping your vibration high means taking care of yourself on all levels – physical, mental, emotional, and spiritual. When you feel good physically, it's easier to feel good mentally and emotionally. Likewise, when your mental and emotional health are in balance, it's easier to take care of your physical health. This is why it's so important to take care of yourself on all levels.
One way to keep your vibration high is to eat healthy foods that make you feel good. You should also make time for activities that make you happy and help you relax, like spending time in nature. It's also important to surround yourself with people who support and love you. When you take care of yourself, it's easier to vibrate at a high frequency and attract good things into your life.
Patience, grasshopper
Be patient. Manifesting happens in perfect, divine timing! Just because something hasn't happened yet, doesn't mean it won't. Be confident and trust that you will manifest your dreams in the perfect timing; when the Universe has aligned everything for your highest good. Have faith, be patient, and look out for signs from the universe to guide you on your path. Meditation can help keep you grounded and encourage you to stay positive while you are manifesting.
Be receptive
Allow yourself to receive the blessings that come your way. Many people block their blessings simply because they don't receive well. Just as much energy goes into giving as it does receiving. When we don't feel worthy of receiving all the wonderful things life has to offer us, our manifesting process can be hindered. So, open your heart and embrace all that comes your way to show gratitude. This will create a powerful energy of abundance in your life, which is essential for manifesting the things you desire.
Take my Receptivity Quiz to see how open and receptive you really are.
Follow your intuition
Follow your intuition and trust in the manifesting process. In a world of chaos and unrest, manifesting can bring you back to a place of peace and security. Knowing that something greater is guiding your life will give you strength and courage on your journey.
The Universe has endless possibilities for you to explore, so don't limit yourself when it comes to manifesting. Think big and dream even bigger. Believe in the power of manifestation and take inspired action toward your goals and desires.
Your intuition is your greatest internal guidance system. Stay alert and know that you're always being guided toward your desires. Stay open and receptive so you can receive guidance with awareness.
Everybody receives intuitive messages a little differently. Take my Intuition Quiz to determine your strengths.
Celebrate your successes!
No matter how small, every success deserves to be celebrated! A sense of accomplishment is essential for motivation, and celebrating your successes is a great way to stay inspired. When you take the time to acknowledge your accomplishments, you remind yourself that you are capable of achieving your dreams. Additionally, celebrating your successes can help to increase your confidence and boost your mood. So next time you reach a milestone, no matter how big or small, take a moment to celebrate! You deserve it.
Best manifesting tips for empaths recap
Now you now know eight essential principles for manifesting your desires. It's important to remember that manifestation takes time and requires patience, energetic alignment, and faith. But when you do finally manifest your desires, be sure to celebrate your success! Share your story with others who might benefit from hearing about what you've accomplished. And most importantly, keep up the good work, and don't give up – the Universe is listening… and more importantly the Universe is responding to your vibration. What are you broadcasting? Might as well make it something great!