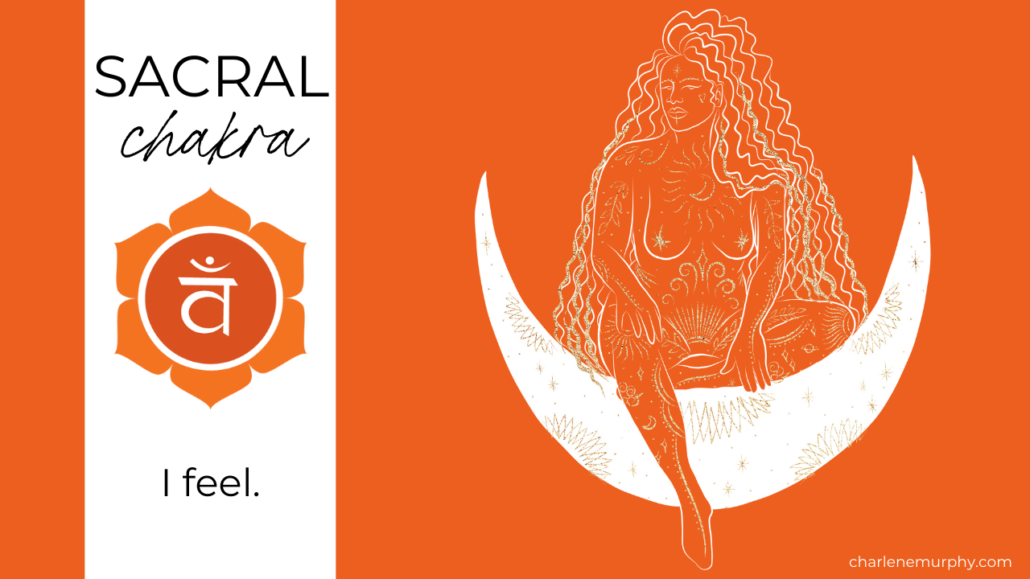 What is the Sacral Chaka?
The sacral chakra is your passion and pleasure center and it is located in the pelvic area. While the root chakra is satisfied with survival, the sacral chakra seeks pleasure and enjoyment.
The sacral chakra is the seat of sensual gratification. The gift of this chakra is experiencing our lives through feelings and sensations, such as passion, exhilaration, inspiration, contentment, and joy. The sacral chakra is proof that we live in a benevolent universe. Human design did not have to include the pleasure, love and beauty that we experience, but it does.
The second chakra is the center of feeling, emotion, pleasure, sensuality, intimacy, connection, and creativity. And since we are born with these gifts from the start, it's easy for us to become complacent, disenchanted, and oblivious to the beauty that surrounds us, which can become problematic for many.
The energy of this chakra allows you to let go, move, and feel change and transformation occurring within your body. It allows you to experience the moment as it is, in its own fullness. It's through the sacral chakra that you experience the magic of beauty, art, music, textures, flavors, and emotions.
The main challenge for the second chakra is the conditioning of our society. We live in a society where feelings are not valued, where passion and sensitivity are frowned upon and even discouraged.
We also experience the wounds of our collective cultural struggles over the many sexual issues in our society. We're taught to hate our bodies, to be sexually attractive for social acceptance, and to question our own sexuality. We're taught that we're not enough as we are.
In one instance sexuality is magnified and glorified and in another, it's rejected, ridiculed, and judged. As a result, we get disconnected from our bodies, and from our feelings. We develop self-esteem issues, poor boundaries, and identity crises. This results in either blocked or excessive second chakra issues, such as addiction or co-dependency.
The sacral chakra is also your center of creativity. Passion is the fuel of creative energy. Everything you create, a poem, a drawing, a business, a project, a family, or an event originates from the energy of the second chakra. It is also where your fertility originates and explains the phrase, "Pregnant with possibilities."
Imbalances in the Sacral Chakra
A person with a blocked sacral chakra will deny herself pleasure, while an overactive sacral chakra will result in over-consumption and addictive behaviors.
When there is an imbalance in the sacral chakra, you may experience constant cravings, feelings of inadequacy, emotional unfulfillment, guilt, shame, unworthiness, and a general lack of inspiration or motivation. You may also experience boredom, low libido, or an insatiable one.
Signs of a Balanced Sacral Chakra
A person with an open sacral chakra is passionate, present in her body, sensual, creative, and connected to her feelings. She is also temperate in her pleasures, tastes, and appetites. She enjoys the beauty that surrounds her.
You're full of vitality and passion and it shows in your work, your relationships, and your health.
You have a sense of satisfaction, contentment, and appreciation within yourself.
You're connected with your core values and have healthy boundaries.
You see the inherent beauty in yourself, in others, and the world at large and want to experience it.
Sacral Chakra Snapshot: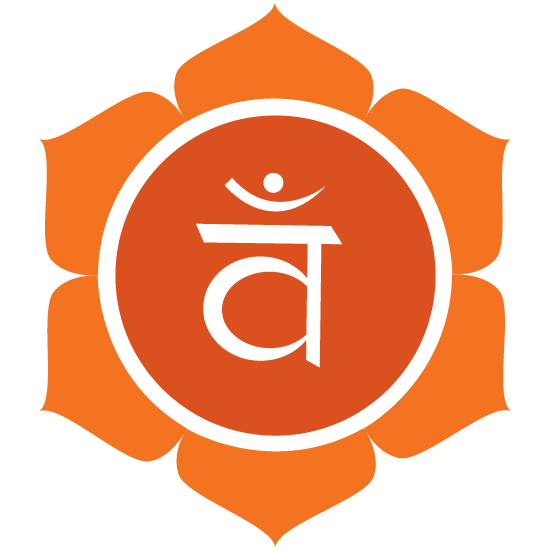 Sanskrit name: Svadhisthana (sweetness)
Element: Water
Color: Orange
Frequency: 288 Hz
Shape: Circle with crescent
Petals of the lotus: Six
Rights: To feel, to want
Endocrine gland: Ovaries, testes
Physical association: Womb, genitals, kidney, bladder
Psychological function: Movement and connection
Identity: Emotional
Challenge: Guilt
Plane: Astral plane
Planets: Mercury, Jupiter, Moon
Incense: Gardenia, damiana
Herb: Fennel, coriander
Tarot Suit: Cups
How to Balance Your Sacral Chakra
Balancing your sacral chakra starts with self-awareness. Do you enjoy life – the little things as well as the milestones? How receptive are you? Can you accept compliments easily or do you deflect? Do you see beauty in the things around you or are you feeling flat?
Once you have a basic awareness of your relationship with pleasure and creativity, you can experiment with different ways to create a joyful balance. You can try new foods, spark up a conversation with someone new, and really look at the nature around you next time you're on a hike. You can play an instrument, take an art class, and listen to moving music.
The possibilities are endless. All that is required is for you to expand your current reality and look around. Get curious and feed your senses well.
Essential Oils for the Sacral Chakra
Essential oils are a great, simple way to open up blocked chakras with the healing properties of plants. Try introducing pleasant scents associated with the sacral chakra to your home, office, and other personal spaces. From citrus and floral to more subtle, earthy fragrances, adding a hint of scent can make a world of difference in helping to open, cleanse, and balance your sacral chakra.
Make sure to get high-quality essential oils for their plant magic (not cheap artificial fragrances). I trust and shop Mountain Rose Herbs. Diffuse them throughout your home for ongoing aromatherapy.
To help heal chakra imbalance, consider using one or more of these fun and sexy essential oils:
Patchouli
Ylang-Ylang
Bergamot
Tangerine
Clary Sage
Jasmine
Wild Orange
Rose
Healing Exercises
Move your body & dance.
Practice yoga.
Be mindful of your senses and stimulate them, like trying different foods.
Think and see the color orange. Add orange accents to your space, clothing, and jewelry.
Meditate on the color orange to improve your focus and concentration.
Do forgiveness work. Letting go of emotional baggage is essential for a healthy sacral chakra.
Open up the hips with yoga, sex, and exercise. Rigid hips equal blocked sacral chakra.
Try Happy Baby pose to really open up those hips.
Hula hoop!
Look for the joy in the small things & see the beauty in everything!
Healing Foods
Orange foods, like pumpkin, squash
Sweet fruits, such as passion fruit, melons, mangoes, tangerines, mandarins and oranges
Honey, nuts, cinnamon
Grounding Stones & Crystals
Let your stone or crystal choose you. What calls to you or sparks your heart? Choose that!
Citrine
Tangerine Quartz
Orange Jasper
Peach Moonstone
Tiger's Eye
Sunstone
Sacral Chakra Affirmations
I love and enjoy my body.
I have healthy boundaries.
I am open to experiencing the present moment through my senses.
I embrace life with passion.
I nourish my body with healthy food and clean water.
I enjoy life, all its beauty, and treasures.
I allow creativity to flow through me.
I am open to touch and intimacy.
I allow myself to experience pleasure.
My sexuality is sacred.
Emotions are the language of my soul.
My senses are alive, aware, and balanced.
I am grateful and satisfied.
Inspiration is my guide.
Fun, appreciation, and self-care are my sacral chakra cures!

Bottom line: Self-care is the cure for a healthy sacral chakra. Put your needs first where they belong, forgive the past, and be here now surrounded by the beauty that is. Play!