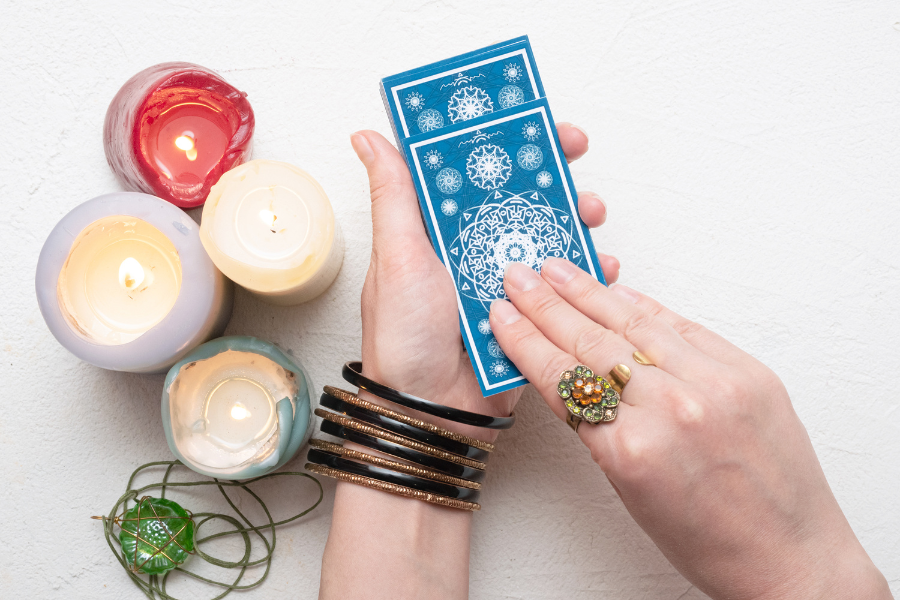 Why Use Tarot and Oracle Cards?
When it comes to Tarot and Oracle cards, one size does not fit all. Tarot and Oracle decks are as varied as the personalities on the planet.
Tarot and Oracle cards are psychospiritual tools that help you connect with your higher wisdom. They speak directly to your intuition and provide you with guidance and direction.
Sometimes when you're perplexed with something or someone, it's hard to be objective or clear-headed. You're human after all. Tarot and Oracle cards cut through the confusion and provide you with clarity that you might not have yet. Or when you're on the fence about something, Oracle cards will validate what you know on a deeper level and help you with decision-making. Ultimately, Tarot cards and Oracle decks help open your eyes and lead you to healing and understanding.
If you're anything like me, you'll build long-term relationships with your Oracle decks and use them for every situation, so choose them according to your style… your intuition style, personality, and artistic style.
Intuition Style
What's your intuitive strength? Not sure? Take my Intuition Quiz to find out. Oracle and Tarot cards are great for visual intuitives or clairvoyants. The pictures and images speak directly to your intuition and tell a visual story. Or maybe you pick up intuitive information through feeling. If that's the case, you're going to want a deck that sparks an emotional response from you.
Discover your Intuition Style
Personality Style
Are you someone who thrives on positive, inspirational messages? You might be attracted to Angel Oracle cards. Or do you want to know the good, bad, and ugly about life situations? Then classic Tarot is for you. I call the Tarot Shakespeare in a box that covers all aspects of humanity. Or maybe your personality is more ethereal and fantasy speaks to your intuition. You have endless options from Fairy cards to Fantasy Oracle cards.
Maybe you're eclectic like me and enjoy a wide variety of cards… a deck for every occasion!
Artistic Style
This one is easy to determine. What deck looks best to you? Do the illustrations speak to you? Do you like bright, vibrant colors? Are you drawn to monochrome prints or minimalism? Maybe you love detail and symbolism. Or is dark and macabre your style? Only you can determine!
Let your Tarot and Oracle cards choose you.
Clients ask me all the time which Oracle decks or Tarot cards they should buy and I tell them all the same: Let your cards choose you! Let your intuition lead the way. When you see a deck that's right for you, something will light up and fire inside your body. You may get that lightning bolt a-ha moment, the deck might seem to jump out at you, or you might get tingles or feel butterflies in your stomach. Go with it.
In this post, I'll share my favorite Tarot Decks and Oracle Cards and give you my reasons for loving them. I can't imagine my life without Tarot and Oracle cards! Once you discover their wisdom, you'll never be without them. Use them for everyday guidance and see how your life opens to the possibilities with grace and ease.
Radiant Rider-Waite Tarot Cards
This is my all-time favorite Tarot deck and I've used it personally and professionally for years. Rider-Waite is classic Tarot. Radiant refers to the vibrant colors used on the cards. The original coloring is a bit dull, so the Radiant deck adds more color to the cards. Kind of like what Technicolor did for black and white movies. And since color corresponds to chakras or energy, having brightly colored cards makes the energy easier to read and feel.
The symbolism of Rider-Waite is spot-on in how it represents all of human nature, including the major milestones and the daily grind. It uncovers the good and not-so-good. Radiant Rider-Waite Tarot is my recommendation for anyone wanting to honestly explore their own humanity and give detailed, meaningful readings to others.
Soul Lessons and Soul Purpose Oracle Cards by Sonia Choquette
Apparently, this deck is highly sought-after and out of print. Lucky for me, I purchased this deck when I first began my journey into metaphysics. Sonia Choquette is my first (and favorite) teacher in the psychic world and I continue learning from her today.
The Soul Lessons and Soul Purpose oracle helps you better understand your soul lessons in every situation and guides you toward the highest expression of yourself. The cards reveal deeper and sometimes hidden aspects of your situations that escape your conscious attention, which keeps you stuck in a loop. The wisdom of this oracle makes the unseen seen enabling you to break through barriers and succeed in your endeavors. It helps you become accountable for what's manifesting in your life and the insight to change things by getting the lesson and shifting yourself.
Messages from Your Angels Oracle Cards by Doreen Virtue
I studied under Doreen Virtue back in the day when she was a professional Medium and self-proclaimed Angel Therapist. I took many of her courses and certification programs. Her Oracle decks always spoke to me… and they still do.
Messages from Your Angels Oracle cards display images and concepts of gentle kindness, inspiration, and hope delivered to you by the higher realm. This deck is soothing to the soul and the messages feel like a hug from above! The messages are simple, clear, and easily absorbed.
Compassion Cards from Pema Chodron
I use this deck just like any other Oracle deck for guidance about compassion for others and for myself. Empaths can be especially hard on themselves and this deck reminds us to practice self-love and self-care. The cards shine a light on our shortcomings or perceptions that might hurt us, so we can self-correct and see situations from different perspectives.
The cards represent the classic Buddhist practice of lojong for everyday inspiration and contemplation… with instructive commentaries by Pema Chödrön to make the teachings accessible and applicable to everyday life.
I find this deck priceless for self-growth. You can never go wrong with love, compassion, and fearlessness. You can only get better!
Wisdom of the Oracle Divination Cards by Colette Baron-Reid
This is a gorgeous deck that reflects the Hero's Journey of the traditional Tarot in easy to understand terms. Use this deck to receive answers to all of life's questions – big and small – and find the way forward to peace, purpose, prosperity, and love.
The messages in this Oracle deck are uplifting and inspiring offering practical spiritual coaching and advice for a positive outcome. When you pull an upside-down card or reversed, there is a message of protection for you, indicating that something is off that needs your attention.
The guidebook gives an overall meaning for each card along with messages for relationships, prosperity, and protection. So whatever your question or quandary is, this Oracle deck has you covered.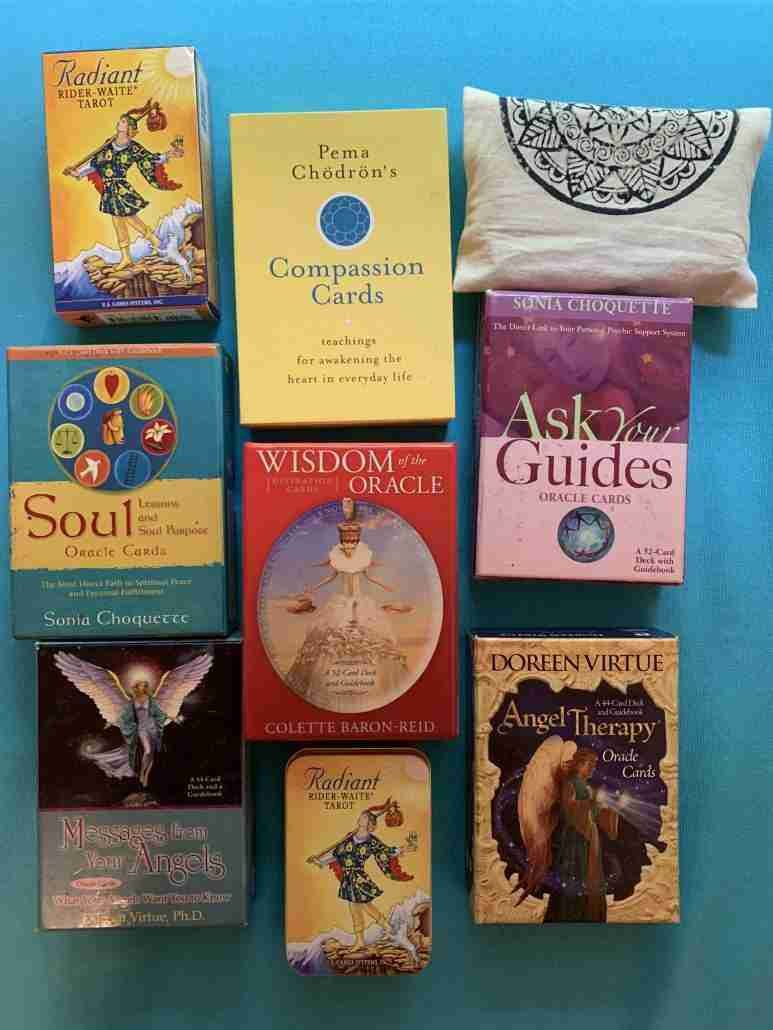 Ask Your Guides Oracle Cards by Sonia Choquette
I'm all about gathering guidance from my Guides and Helpers from on high. Ask Your Guides is a wonderful Oracle that speaks to every aspect of everyday life. It shines a light on what needs attention and validates what you already know to be true on a deeper level giving you permission to move forward.
These cards give practical tips to unclutter your life and address challenges in a firm but gentle style. Each card reveals which Spirit Guides are on the job to help you, so you can be on the lookout for the many signs they will give you to make your daily journey that much easier.
Angel Therapy Oracle Cards by Doreen Virtue
This just might be the very first Oracle deck I ever purchased. It's classic and magical. It connects me to my childhood when my relationship with angels was everything.
This Oracle deck is great for beginners and experienced divination card users. Angel Therapy is a powerful healing and guidance process that involves working with your guardian angels and archangels. These oracle cards and guidebook give you action steps to take that will initiate healing, help you release fears and emotional blocks, and give you messages about your life purpose, relationships, and manifestations.
Each card features a gorgeous angelic illustration and a message for you. I love the power and sweetness of this deck and always feel the love, guidance, and protection of my angels.
As you can see, my collection is classic, which suits me perfectly. There are so many new, fresh, modern and beautiful Oracle cards being created every day. Some have general meanings, while other cards are quite specific in their niches from self-care to astrology to starseeds and goddesses.
Having Oracle cards on hand is like having a wise friend nearby who gives the best advice and who always has your back. Have fun finding your Oracles… they'll be calling you.