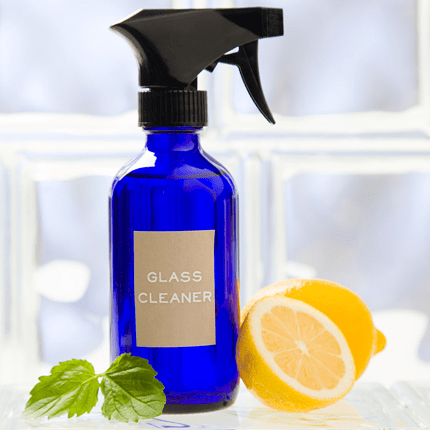 All healing begins and ends with clarity… clarity of mind, body, spirit and environment.
As we are becoming more mindful in detoxifying our bodies and minds by incorporating organic foods and meditation into our daily lives, we must also detoxify our living spaces. So many health conscious people continue to use toxic, commercial products to "clean" their homes. As they do this, they unknowingly contaminate their homes with highly toxic and harmful chemicals.
I lived with my grandparents as a teenager for a short stretch. These were some of my best memories. My grandmother, Grace, was an avid environmentalist. I didn't even know that term back then. I just thought she was cheap because she re-used everything and made her own household cleaning products out of everyday ingredients, but as I understand her now, Grandma Grace was way ahead of her time!
She taught me this all-natural glass cleaning solution. I added the essential oils, though. I use this daily to clean my infrared sauna in my healing studio and all my glass surfaces at home and at the studio. I love its simplicity, safety and effectiveness!
DIY All Natural Glass Cleaner
Ingredients
16-ounce glass spray bottle
1 ½ cup white vinegar
½ cup distilled water
10-12 drops lemon essential oil
(You can purchase these products by clicking on the photos.)
Instructions
Add vinegar, water, and essential oil(s) to spray bottle and shake.
Spray glass and wipe with paper towel or newspaper for extra shine
Lemon Essential Oil
I have to say, lemon essential oil is my favorite oil option for cleaning due to its crisp, clean smell and its amazing antimicrobial qualities. And lemon essential oil is one of the least expensive oils due to our abundance of lemons!
Dr. Axe has this to say about lemon EO: "Studies show that lemon essential oil works as a natural antimicrobial agent because of two dominant compounds found in the oil, limonene and b-pinene. This makes lemon oil a powerful tool in cleaning and food protection."
I'll be sharing more household cleaning recipes that include lemon essential oil, so stay tuned. In the meantime, I recommend using the highest quality essential oils always.
Please note, some links on this page are affiliate links. If you make a purchase through an affiliate link, I may receive a commission at no additional cost to you. Thanks for your support!