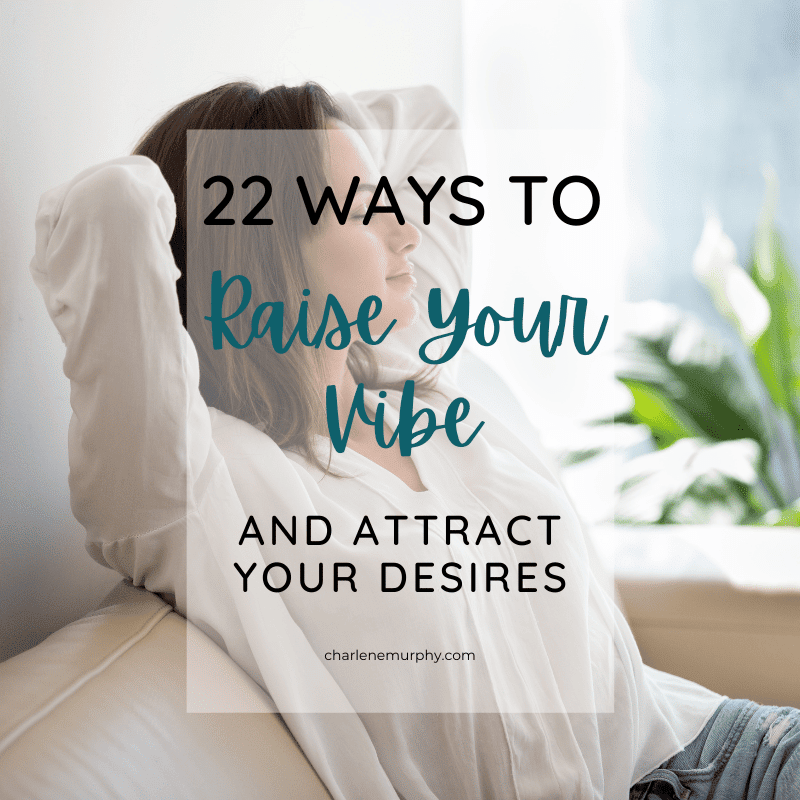 Let's face it. We're living in challenging times and it's messing with our vibes!
Life is meant to be fun and joyous! When you are in a higher vibration, things come more easily to you. Your spirit comes alive, your mind opens up and your heart is receptive.
When you are in a higher vibration, your psychic senses are more activated and you become a clear channel to receive everything this generous and benevolent Universe has in store for you.
All you have to do is ask and then imagine your desired outcomes in your mind's eye. Wayne Dyer so wisely said, "You'll see it when you believe it."
You are an energetic spiritual being having a human experience. Do everything you can to feel good. This is your connection to Source. It is from this place of feeling good that you are a vibrational match to all of your heart's desires.

And when you are a vibrational match, your desires must physically manifest. It's Universal law. Everything good comes your way when you are clear and vibing high!

Try these tips to raise your vibration, feel your spirit soar and watch your dreams and desires manifest right before your eyes!

Oh, and you might just really love the anti-aging side effects that happen too! I know I do!
For the Mind & Spirit
Meditate – You can sit, walk, drive, fold laundry. There are hundreds of ways to meditate. The point is to be still, quiet the mind and pull your focus inward.
Connect – with Source and Spirit Guides through words and visual offerings to remind yourself of the energetic collaboration happening.
Use Mantras – Repeat words and phrases that reflect your desired outcome. "I am calm. I am peace. Prosperity is mine. Perfect health is mine." Words are powerful.
Feed Your Mind – Listen to uplifting media, like Abraham-Hicks on YouTube or watch Gaia TV.
Acts of Kindness – Whatever you think is lacking in your life, do that for someone else. Reverse the flow of energy and activate the law of circulation. Watch miracles happen!
Listen to music you love! This is a wonderful meditation.
Practice Appreciation – Observe the beauty and magnificence that is around you in nature and people. Take a minute to notice it.
Keep a Gratitude Journal – Activate the feelings of abundance by finding the simplest thing to be grateful for.
Read – Turn off the TV and read something enlightened. Keep your mind sharp and spirit fed well.
Practice Creative Visualization – Send angel hugs to family members, imagine the life of your dreams, see your loved ones healthy and whole. Imagination is your psychic gateway to manifesting everything. Open it.
Forgive – Have a short memory and be easy to forgive. This lets everyone off the hook, including yourself, while keeping your energy clear and light.
For the Body
Breathe – Center yourself on your breath. Breathe before you speak. Mindful breathing is the fastest way to ground yourself.

Clear Your Chakras – Book a session with a healer or clear your chakras yourself. Search YouTube for "chakra clearing guided meditation" for the many free videos.

Eat Clean – Eat high frequency, colorful foods, yellow, green and orange fruits & veggies. Watch your energy soar.

Hydrate – Drink lots of clean, filtered water and lemon water.
Move Your Body – Walk, jump, stretch, hula-hoop, dance, ride your bike, play!

Get Some Sun – Soak up the rays! Vitamin D naturally boosts your energy. Just a few minutes a day will do.

Take a Yoga Class – Yoga is a full body-mind meditation that has profound effects. Many communities offer yoga. Check out YouTube for yoga at home.

Diffuse Essential Oils – Aromatherapy is uplifting for the mind, body and spirit, but did you know EOs are plant medicine that promote physical healing?

Feng Shui Your Space – Move stuff around your house. Organize, lighten your load, give stuff away to create clarity.

Take Salt Baths – Visit the beach. The negative ions of salt water are extremely healing.

Get Grounded – Walk barefoot outdoors. Connect with the earth and soak up her electromagnetic energy to recharge your batteries.
High Vibing Resources
Learn more about your Chakras: https://charlenemurphy.com/category/chakras/
Abraham-Hicks – Law of Attraction at its best
Gaia TV – positive, informative spirit-based TV
Explore Mountain Rose Herbs essential oils – get the good stuff!
Good Days Start with Gratitude Journal – write from the heart!
Read Imagination Meditation: Imagitation – my blog post describing creative visualization
Feng Shui 101 with Karen Rauch Carter – my go-to feng shui expert
Yoga with Brett Larkin – my go-to favorite yoga instructor on YouTube
Abraham-Hicks on YouTube – listen to live events
Enjoy your high vibe!