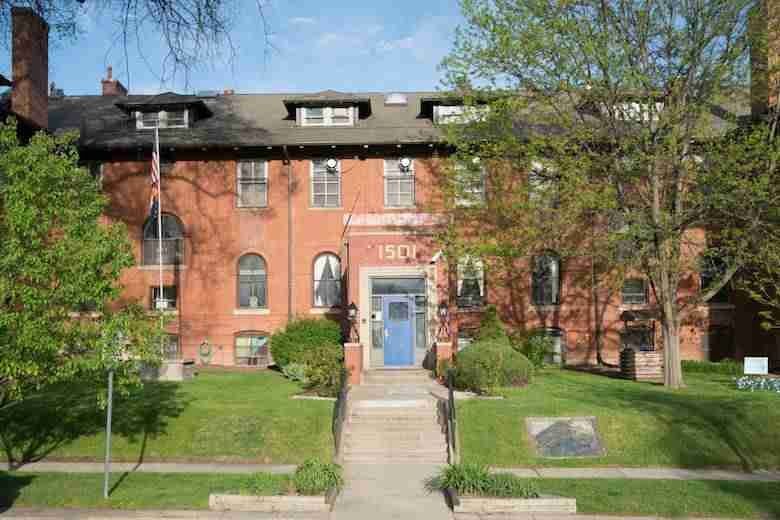 Denver Children's Home
The Denver Orphan Home was founded in 1876 by the Ladies Relief Society. It was meant to provide care for the orphans who had been brought to Colorado to work on railroads and in mines. The young souls who passed through its walls have littered the charitable organization's past with sad events.
Now known as the Denver Children's Home, the organization still provides youth services to the community. But the unfortunate history of this 138-year-old organization includes numerous exorcisms, a fire that claimed the lives of several children and the spirit of a sullen, lonely bride that wanders the halls.
The haunted happenings at the Denver Children's Home include details of distant cries, whimpers and the voices of children.
My Two Cents:
This one is personal for me. My first teaching job, straight out of college was at Denver Children's Home (DCH). I was so drawn to this place by the beautiful haunting architecture of the building. It called me.
Denver Children's Home consisted of two sections: Residential Care and Day Treatment. I was a teacher in the Day Treatment sector, but often took overnight shifts in the residential facility for extra income. I had a favorite girls dorm that I felt a certain protective vibe over. It was a moody place, but not scary.
Denver Children's Home is what made a believer out of me when it came to spirits, residual energies and the effects these energies have on the present. It also made me a firm believer in the crazy influences of a full moon, as I could predict full moons by the number of kids who would be in lock-down for being out of control and dangerous.
My time at DCH was long before my intentional exploration into metaphysics. It catapulted me there unknowingly.
One night, I was asked to cover the overnight shift in a different dorm. It was a younger dorm with lots of male energy. I ended up leaving early in tears. I was hysterical and scared out of my mind. I was so embarrassed to be such a cry-baby, but that was then. Knowing what I know now, I'd love to go back and explore that haunted, dark and miserable dorm room with the tragic bathroom. I'm sure I'd still be sad, but I wouldn't be scared. (I think).
Mind you, the overnight shift is from lights out til morning. Kids are typically sleeping. It's quiet. A good time to read, study or correct papers. This one night in particular, I saw shadows and felt extremely creeped-out. I was drawn to the large dorm bathroom and especially the tiles on the walls. The bathroom terrified me. Every nerve in my body was on end. I kept seeing fire and one particular fire starter, a disturbed young boy full of fury. I felt fire, death, abuse, abandonment… such sadness.
I called down to the main station sobbing. I couldn't explain why. I told them I was scared and to please send someone down. Everyone who worked at DCH was either a teacher or counselor, so I was counseled and stayed a bit longer until I just couldn't take any more. I felt people were in the bathroom peeking around the corners, staring at me. I didn't want to open my eyes for fear of what I might see.
I finally left, running down the hall back to the station unable to take any more. Needless to say, they never called me back to cover any night shifts. Thank goodness my teaching job in the Day Treatment was secured.
After my nightmarish experience, I asked my colleagues about ghosts or hauntings. I was told there were urban legends of hauntings, but nobody believed in that stuff. The staff at DCH were all very wonderful, healing people with very clinical mindsets.
I dropped the subject, but I knew there was much more going on in that building that met the eye. I decided to never step inside the Residential quarters again. I didn't. I didn't have to. I could still feel the sadness, isolation of this place. Yet, I was drawn to stay on for three more years, until the day my son was born. I felt compelled to provide my nurturing energy to the place. It needed my love. They needed my love.
I just came to find out that DCH was an onsite location for the filming of An American Horror Story. So appropriate.
Even though I am no longer affiliated with DCH, I have tremendous respect for the continuing work DCH provides for Colorado's most vulnerable children and families. I'm sure they would appreciate your donations, should you feel moved to give. You can donate HERE.