Kickoff  Date: Thursday April 18, 2019
Time: 10:00 – 11:00 AM PST
Place: FB Live – Anywhere in the world!
Energy Exchange: $99 
You are swimming in the energy of other people, places, things, media… that affect your energy in a big way. Learn how to heal, balance and direct your energy, while expanding your spiritual senses. Reclaim your power, feel amazing and become an energy bending solution!
The key to happiness is inside of you.
Most people look to change their lives by setting goals and looking to change their circumstances. That works when you have one necessary element in place – YOUR ENERGY! Truly, what will attract more joy, health, wealth and love into your life is changing the energy inside of you!
Your chakras are the energy centers in your body that process information. When your chakras are happy and humming, so is your life. When your chakras are blocked or grungy, so is your life.
In this interactive weekly workshop, you will learn about the 7 major chakras – one by one. You will learn what each one does, how it affects your life and how to keep them happy, healthy and balanced.
If you want more mental clarity, financial stability, happiness, sexiness, joy, personal power, creativity, insight or connection with spirit… you can access it in a heartbeat by understanding and regulating your energy centers!
They should have taught us this stuff in kindergarten, but they didn't. It's never too late to get a grip on our selves, our energy and our lives and shake things up for the better!
You will learn which foods, colors, essential oils, mantras and yoga poses best support each chakra. You'll also recognize what imbalanced and blocked chakras look and feel like, while discovering even more techniques that either calm or excite your chakras to sustain a healthy energetic range.
Each class will also include a guided meditation associated with the chakra. You're sure to feel happy, empowered and buzzing with joy! (This is way better than coffee).
Chakra Classes & Meditations are held on Thursday mornings at 10 AM inside our Facebook Group via FB Live.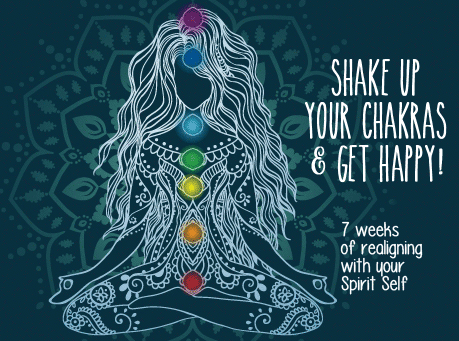 They will be recorded, so don't worry if you can't make it live. You can watch later at your own convenience.
Week 1: Root Chakra – April 18
Week 2: Sacral Chakra – April 25
Week 3: Solar Plexus Chakra – May 2
Week 4: Heart Chakra – May 9
Week 5: Throat Chakra – May 16
Week 6: Third Eye Chakra – May 23
Week 7: Crown Chakra – May 30
Mind, Body & Spirit Exercises
Each week, I'll post exercises that consist of a mental, physical and spiritual practice designed to enhance and support your healthy, happy chakras that you can do on your own whenever you want.
Facebook Group
Our private Facebook Group is a place for us to share our experiences, check-in, give and receive extra support and encouragement. It's also where I'll be posting additional tools, techniques and exercises that support your chakra alignment and raise the vibe!
Your Self-Investment
$99 Energy Exchange
Once you register, I will send you a welcome email with next steps. I can't wait to work with you!
More Perks & Bennies
When you better understand the body's chakras, not only will you develop mastery over your mental, physical, spiritual and emotional bodies, but you will learn to READ the energy of others.
Everyone is always telling on themselves.
As a result of taking my class, you will recognize where other people are strong, weak or challenged in their chakra centers. This enables you to navigate much more gracefully around them and to understand what is in fact going on within their energy. So, instead of becoming impatient or angry with a loved one, for example, you will come from a place of compassion and understanding, and choose to either help them or avoid them until they re-align.
I will also teach you how to bend energy around you, so that you can help those with funky energy without having to say a word.
Understanding the chakras is far beyond just cool – it's empowering and liberating. We are spiritual beings existing on an energetic level. Isn't it time you learn how to READ that?
As always, if you have any questions about my chakra course, drop me an email at charlene@charlenemurphy.com
https://charlenemurphy.com/wp-content/uploads/2019/03/shake-up-chakras2.png
341
459
Charlene Murphy
http://charlenemurphy.com/wp-content/uploads/2019/05/charlenemurphy-remember-inner-brilliance.png
Charlene Murphy
2019-04-06 11:11:58
2019-04-08 11:06:31
Shake Up Your Chakras & Get Happy!