We are swimming in the energy of other people, places, things, media… that affect our own energy in a big way. Learn how to heal, balance and direct your energy, while expanding your spiritual senses. Reclaim your power, feel amazing and become an energy bending solution!
The key to happiness is inside of you.
Most people look to change their lives by setting goals and looking to change their circumstances. That works when you have one necessary element in place – YOUR ENERGY! Truly, what will attract more joy, health, wealth and love into your life is changing the energy inside of you!
Your chakras are the energy centers in your body that process information. When your chakras are happy and humming, so is your life. When your chakras are blocked or grungy, so is your life.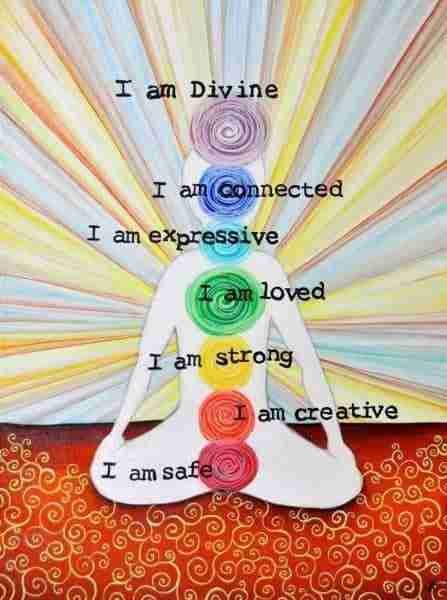 In this interactive weekly workshop, you will learn about the 7 major chakras – one at a time. You will learn what each one does, how it affects your life and how to keep them happy, healthy and balanced.
You will learn which foods, colors, essential oils, mantras and yoga poses best support each chakra. You'll also recognize what imbalanced chakras look and feel like, while discovering even more techniques that either calm or excite your chakras to sustain a healthy energetic range.
Every class will also include a guided meditation associated with the chakra. You're sure to feel happy, empowered and buzzing with joy! (This is way better than coffee).
Chakra Classes & Meditations are held on Wednesday mornings at 10 AM inside our Facebook Group via FB Live. They will be recorded, so don't worry if you can't make it live.
Week 1: Root Chakra – November 28
Week 2: Sacral Chakra – December 5
Week 3: Solar Plexus Chakra – December 12
Week 4: Heart Chakra – December 19
Week 5: Throat Chakra – January 2
Week 6: Third Eye Chakra – January 9
Week 7: Crown Chakra – January 16
Facebook Group
Our private Facebook Group is a place for us to share our experiences, check-in, give and receive extra support and where I'll be posting additional tools, techniques and exercises that support your chakra alignment!
Your Self-Investment Options
$197 Paid by Card
OR
Purchase a doTERRA Emotional Aromatherapy Kit for $195 from my store (must be a new doTERRA customer) and take my class for FREE! When you buy the kit, you also receive a FREE doTERRA wholesale membership for one year, so you can buy more essential oils if you want and save 25%. It's totally optional.
Since we'll be exploring essential oils each week, it would be wonderful for you to experience them simultaneously. The Emotional Aromatherapy is an ideal set for chakra balancing and comes with a diffuser.