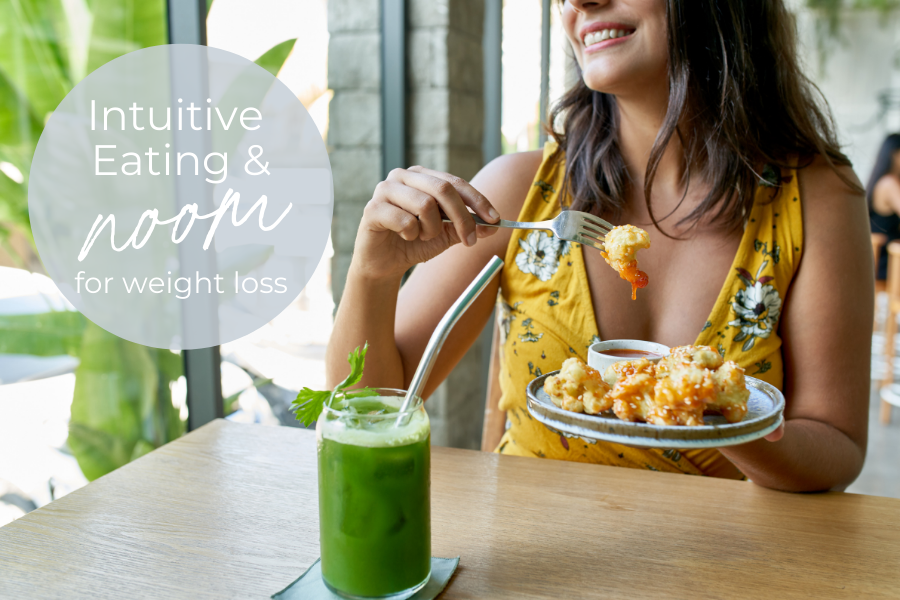 Is weight loss possible with intuitive eating? Won't I gain more weight if I practice intuitive eating?
These are great questions when it comes to eating intuitively. It's only natural to think that intuitive eating will make you gain weight since it's not a diet with rules and restrictions. In fact, it's not a diet at all. Intuitive eating sounds like a free-for-all! But is it really?
What Is Intuitive Eating?
Intuitive eating involves trusting internal messages from your physical, mental, and emotional bodies when it comes to food and eating. Choosing food depends more on your true feelings than on judging food as good or bad or intellectualizing your choices based on the latest trends. It's about getting out of your head and into your heart to make food choices that are appropriate for you.
How to Eat Intuitively
Stop dieting. Restricting your food based on diets is just not sustainable. It goes against your better sense, also known as your intuition. The problem is, most people don't trust their intuition to guide them, even though it is the best, most accurate guidance on the planet.
When you rely on diets, you are giving your power away and letting the creator of the diet call the shots in your life. This is debilitating to the mind, body, and spirit.
Take back your power and tune in to your intuition. It always knows what's best for you.
Eat when you're hungry. Some say breakfast is the most important meal of the day, while others say intermittent fasting is the way to go. Intuitive eating says, "Eat when you're hungry."
Intuitive guidance is always simple. I think that's why people don't listen to it. Many people think things need to be difficult or complicated in order to work.
Pay attention to fullness. It helps to eat slowly and mindfully in order to feel your fullness since it takes time for the brain to signal to us that we are full. Honestly, you intuitively know when you're crossing the threshold into fullness. Sometimes we choose not to stop eating because our brains are being hit with dopamine and it feels satisfying. And that's ok. Just be honest about it and make your choices accordingly.
Choose foods that feel right for you. We all know which foods feed our bodies and minds well. You know the ones… the foods that give you a burst of clean energy. We also intuitively know which foods will provide us with comfort, relief, or escape. Your intuition is honest. Your cravings are an entirely different animal, not to be confused with intuition.
If you're not sure about a certain food, place your hand over your heart and ask, "If my heart knew whether or not this food serves me well, it would say…" Wait for your intuition to speak to you. You'll either hear, feel or see the answer in your mind's eye. Your heart is your intuitive receptor and it knows everything!
Respect your emotions. Intuitive eating isn't about being in denial and using your feelings as excuses to eat whatever you want. You know what's best on a higher level. Intuitive eating is about owning your choices and taking responsibility for them.
So if you want to drown your sorrows in a pint of Ben & Jerry's, own your choice. You are not powerless over your emotions. You can surrender to them with food or not. It's always your choice and your intuition always knows best. Sometimes you'll choose to override your intuition… and that's okay!
Empaths & Weight Gain
Empaths are naturally heart-centered people guided mainly by their emotions. They are more receptive to the emotions and energy of others than the average person. In fact, empaths make up only 20-25% of the population.
Because they are receptive and absorbent to the energies around them, they sometimes struggle with energy overload and maintaining a healthy balance. This is why self-care is so important for empaths and sensitives. It's important to clear their energy, reclaim and recharge their energy on the regular.
Many empaths turn to food as a coping mechanism which can indeed lead to weight gain. Food, as we all know, is a quick dopamine fix that brings instant relief and comfort. However, it comes at a price, just like all dopamine stimulators.
The good news is empaths are highly intuitive as well as highly sensitive and with mindfulness training, empaths can find a healthy balance while exploring less harmful coping strategies.
My Weight Story
This is my weight gain and weight loss story. I'm an Intuitive Empath who for many years relied on food and wine as daily coping mechanisms. It paired well with meditation, hiking and mindfulness, so my health was always good. Over the last few years, I've experienced astronomical levels of stress (like many people) and my food and wine intake increased accordingly, while my activity level plummeted.
I packed on 30-40 pounds and became increasingly uncomfortable in my body and was alerted to the inevitable health risks that come with being an overweight wine drinker.
At the peak of my discomfort, I hired a fitness coach who put me on a strict diet with a set food plan and exercise routine. My coach had me eat small meals all day long starting with breakfast within 30 minutes of waking up. Of course, I ditched the wine.
I followed the plan and started losing weight. About three weeks in I started to HATE the diet I was eating and despised eating so early in the morning. I felt like I was choking down food all day long. This diet consumed my brain and all my time because I had to meal prep and plan my day around eating. I started to realize that my weight loss plan was everyone's weight loss plan. It was not remotely geared toward my unique needs.
This one size fits all program started to feel extremely counterintuitive to me. And I don't do counterintuitive. So, I quit my coach and said no to the diet and went back out on my own only to be confused with all the diets out there… keto, paleo, vegan, ketotarian…
Clearly, I wasn't applying my intuition to my health and eating because the diet world seemed so confident in its knowledge, I'm not a fitness expert, and it didn't even occur to me that I could. (Doh!) I sent up a request to the Universe and asked for guidance around proper nutrition, my weight and health goals. I needed help. Good help.
Within a week, I stumbled on an ad for Noom. The word "psychology" popped out and got my attention. I looked into it and almost immediately signed up for it. It resonated with me on every level. It just "felt" right.
Intuitive Eating & Noom for Weight Loss
I started my new Noom program the very next morning using the mobile app to read my daily lesson. Since I love learning, this new routine was perfect for me! The lessons include nutrition, intuitive eating, stress management, mindfulness, meditation, hormone health, triggers, emotional eating, elephants and riders… Noom speaks my language.
Not only that, it helped me form new daily habits that are doable – not consuming – like weighing myself first thing in the morning, reading my lesson, and recording my food choices throughout the day. Foods are categorized as green, yellow, and red. Green foods are more nutrient-dense and water-based, yellow foods are foods like eggs and meats, whereas red foods are more calorie-dense like fats, nuts, and cheese.
No foods are off-limits and I have a calorie budget that is calculated for my weight loss goals. I prepare and eat foods that I want to eat. I'm intuitively drawn to plant-based foods with occasional salmon or chicken. I'm also intuitively drawn to whole grains and beans (no-nos on popular diets I've tried).
Mindful Eating
Noom has given me the structure I needed while teaching me to trust my intuition when it comes to diet and nutrition. Ironic, right? The intuition teacher needing permission to eat intuitively…
Noom also encourages mindful eating, which goes hand-in-hand with intuitive eating. I'm mindful about my choices… thinking them through and listening to my intuition… playing out consequences in my mind. These are some of the Psych Tricks that Noom teaches.
And you know the best part – besides weight loss – is that I apply everything I'm learning about food psychology to drinking. I've been alcohol-free as long as I've been on the Noom program which is January 8, 2022. In my book, that's amazing!
To date, I've released 16 pounds and counting. Intuitive eating allows my body to heal itself and find its natural way to a healthy weight with grace and ease.
Is Noom Good for Empaths?
It's my opinion that Noom is excellent for empaths! Empaths can greatly benefit from the balanced structure that Noom provides. It keeps you mindful of your food choices and the Psych Tricks are priceless, especially for empaths, since we are susceptible to emotional eating. I'm always talking about having good tools in your toolbag for every occasion.
Empaths are naturally intuitive, as well. So intuitive eating paired with a calorie budget is just what the empath needs. Plus, there is a Noom community for empaths to lean on or just socialize with at a distance. Noom is an empath's dream.
I Recommend Noom
If you have a weight loss goal or struggle with emotional eating, I highly recommend Noom. It's super affordable and a smart solution for sensitive, intelligent people. Show yourself some love, practice self-care and extreme kindness by joining Noom today.
When you join by going HERE, you'll get my referral discount – and a 14-day free trial. Give it a try. I think you'll love the journey. It's so much more than a food-centric weight loss plan. It's a program that shines a light on YOU. You'll hear me say over and over "Self-awareness is the first step in healing anything." Noom gives you that self-awareness plus tools for change.
I'll keep you posted on my progress!
Wishing you the very best in your health & wellbeing,
Charlene