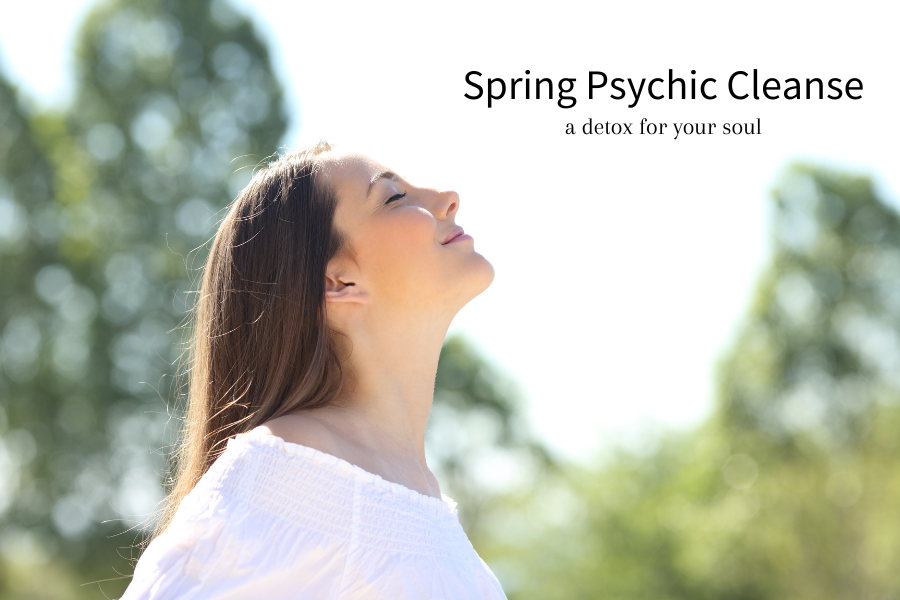 I'm so excited to start our annual 🌻Spring Psychic Cleanse this Thursday! With spring comes rebirth, renewal, and re-aligning to our sacral and solar plexus energies. It's time to purge the old and toxic mental and emotional waste and clear up our consciousness, so we can be clear channels, increase our intuitive abilities, feel great, and attract at a higher level.
This 21-Day Psychic Cleanse is the perfect spring reset. It's a detox for your soul. I'm happy to say goodbye to the dark days of winter and usher in the sun's energy once again… and I'm honored to do this with you!
Kickoff Date: Thursday, April 6 (Full Moon)
Time: 6:00 – 7:00 PM PDT
Place: Enchanted Empath Community
Why Is a Psychic Cleanse Important?
Everyone experiences funky energy. It can come from our limited thoughts, feelings of unworthiness, resentment toward others, and external circumstances. Stuff happens and we are sentient beings influenced and affected by all the stuff happening in and around us.
And just like doing a physical cleanse to clean up the toxins in our bodies, we also need to clear up the mental and emotional residue left behind. Holding onto toxic mental and emotional waste can have several negative impacts on a person's well-being, including:
Increased stress and anxiety: Toxic emotions can cause chronic stress and anxiety, which can lead to physical and mental health issues. In fact, most diseases begin with an emotional imbalance and eventually manifest themselves physically, since the mind, body, and spirit are always in communication.
Difficulty in making decisions: When a person holds onto negative emotions, they may struggle to make decisions, leading to feelings of confusion and uncertainty.
Poor self-esteem: Negative emotions can contribute to feelings of low self-worth, leading to self-doubt and self-criticism. It can turn into a constant loop that feels hopeless.
Relationship problems: Toxic emotions can negatively impact a person's relationships, causing them to withdraw or become defensive and creating communication problems.
Physical health problems: Chronic stress and negative emotions can contribute to physical health problems, such as headaches, muscle tension, and digestive issues.
It's important to take steps to manage and release negative emotions and thoughts… and doing this 21-Day Psychic Cleanse is just the tool to help you do that.
The concept of mental and emotional toxins may not be as popular of a subject, but I guarantee you, they are more detrimental to one's overall health than most physical toxins.
In fact, over 90% of all disease stems from a mental or emotional origin.
These mental toxins may manifest in the form of stress, anxiety, anger, criticism, judgment, jealousy, sadness, depression, insecurity… The list goes on. Some of these psychic toxins are in our awareness while others may be stored so deep, we do not even realize they are present – all the while wreaking havoc on our bodies and affecting the quality of our lives.
Either way, these toxic thoughts, and emotions are barriers to good health and well-being. They also keep us blocked from accessing our intuitions and manifesting our desires. They need to be processed and released just as physical toxins do. Without a healthy mind and spirit, a healthy body is of little use.
Detoxing the psyche is true health & true freedom.
If you're feeling any physical, emotional, or mental angst, it's time for a Psychic Cleanse. This is a three-part, interactive experience that empowers you to release toxic energy, debilitating thoughts, and sabotaging behavior patterns so you can re-discover the deep peace and brilliant clarity that exists within you.
The 21-Day Psychic Cleanse is a powerful process for cleaning up the past, getting honest about the present, and envisioning a future that supports your authentic self.
This cleanse offers a full-immersion approach to spiritual renewal, emotional transformation, and reconnection with your Higher Self. Designed to support you in releasing all fear-based beliefs and assumptions that no longer serve you, this cleanse will lead you to a deep and enlightened relationship with the greatest love imaginable – a love that can only occur when you've made peace with yourself.
During these 21 days, you will be the gardener of your life… pulling weeds, making space for new things to grow, cultivating and fertilizing your spirit, and planting new seeds. I'll be on the sidelines supporting you along the way.
Are you ready to…
Excavate your authentic self
Let go of limiting, toxic external situations
Increase your intuitive abilities
Release yourself from mental and emotional pain
Experience clarity and peace of mind
Become a clear channel for spiritual guidance
Accept and approve of yourself and others
Say goodbye to guilt, shame, and playing it small
Experience true freedom and joy
Clear the way for your manifestations and heart's desires
Allow your body to heal
What the 21-day Psychic Cleanse looks like…
The 21-Day Psychic Cleanse will take place inside Enchanted Empath Community – a private and safe site for members only.
Zoom Kickoff
This is our time to connect prior to the cleanse, break down the process and answer your questions. Kickoff date is Thursday, April 6 at 6 PM PDT.
Daily Journal Prompt
Each day you'll be given a Psychic Cleanse journal prompt. Daily journaling is the basis of the cleansing process. Give yourself 20-30 minutes a day minimum to complete your daily assignments. First thing in the morning works best for most.
Enchanted Empath Community
This is our private community where we can share, communicate our experiences, offer and receive support and guidance about our daily progress. This group is closed to members only.
Weekly Coaching Call
I am here to support you during your cleansing process and help guide you with whatever may come up. We'll discuss journal topics, practice energy healing techniques, and have time for questions and answers. This is a time of support, healing, and growth.
The lecture portion of the coaching call will be recorded for anyone wanting to watch the replay. Since check-in time is personal in nature, it will not be recorded to protect the privacy of members.
How to Join
This 21-Day Psychic Cleanse is included with your membership to Enchanted Empath Community. The monthly membership fee is only $22 – you can cancel anytime – making this 21-Day Psychic Cleanse affordable and accessible to anyone wanting to experience clarity of mind, body, and spirit! Get started with your 7-day free trial.
This 21-Day Psychic Cleanse is mindful, spiritual work. My intention is to create a safe, nurturing, and supportive space for you to take this sacred journey of spiritual liberation. I know that you will experience great shifts, massive peace, and get a crystal clear vision for your life – if you commit to doing a little work. It's so worth it. You're so worth it!
I'll see you inside!